From Saturday, August 26, 2017
To Sunday, August 27, 2017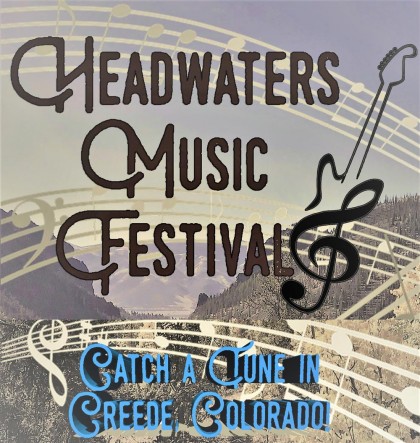 ---
Creede HEADWATERS MUSIC FESTIVAL – "Catch a tune!!!" Scheduled for August 26 & 27.
www.HeadwatersMusicFestival.com
On August 26 and 27, 2017, Creede will host the second annual HEADWATERS MUSIC FESTIVAL celebrating the Historic Mining Town of Creede, Colorado as an excellent live music venue. Eight great bands have been scheduled for the weekend along with a variety of fun entertainment and unique local dining experiences. The event is being sponsored by the Headwaters Music Festival – a non-profit organization, and will take place in the natural beauty of the San Juan Mountains at the headwaters of the Rio Grande River.
Performers include national, regional, and local talent such as the famous Johnny Cash cover band, Cash'd Out, from San Diego, Pauline Reese and her band from Austin, Kathy Hussey from Nashville, Lesli Wood and the Spice Boys from Austin, Colorado's Moors & McCumber, Bruce Hayes from Salida, Creede's Quartet, and resident music ambassadors - Baxter & Goss.
Camping will be available near the concert site, and other lodging accommodations in Creede include hotels, motels, RV parks, and several Bed and Breakfast venues.
Events in addition to the live music on stage will be Arts & Crafts vendors, beverage and food vendors, a Song-Writing Seminar conducted by a Song Writers Hall of Fame award winner and on Saturday is the Upper Rio Grande Tour of Creede Homes to benefit the Creede Early Learning Center. Also, the Creede Repertory Theater will be conducting the 2017 Headwaters New Play Festival that weekend including staged readings of new plays.
Tickets for the musical event are $25 for a one day pass, $40 for the two-day pass, and can be purchased on line at www.HeadwatersMusicFestival.com
Join us in the historic mining town of Creede, Colorado during the last weekend of August 2017 for our annual HEADWATERS MUSIC FESTIVALS. Come and Catch a Tune in Creede, Colorado.