Creede Donkey Dash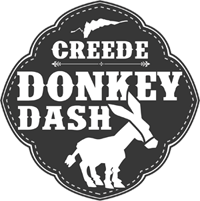 Creede's 3rd Annual Donkey Dash will take place on Saturday, June 8, 2019!
Read this fun write-up about the 2017 Donkey Dash!
"Your Turn: The Inaugural Creede Pack Burro Race"

Burro racing is a great sport begun by some of Colorado's 19th-century miners. Those hardy characters used burros to carry mining tools and supplies through the Rocky Mountains as they prospected for gold, silver, and other valuable ores. Since the burros were carrying a full load, the miners had to walk, leading the animal with a rope. Legend has it that two miners found gold in the same location, and raced each other back to town to be the first to stake a claim to the find. Neither could ride their animal because of its load, so one of the basic rules of burro racing was established.
The Creede Donkey Dash will abide by the basic rules of burro racing as established by the Western Pack Burro Association. Competitors will run the entire distance, leading their pack burro.
Creede's Burro race will start and end on Main Street, looping up the historic Bachelor Loop and down the winding West Willow Creek 4x4 road, about 10 miles! Competitors will pass by the Commodore Mines, up the Black Pitch, through the Weaver townsite and past Amethyst Mine (with a view of the Last Chance mine). The course leaves the Bachelor Loop Road at the Midwest Mine site, where runners will climb up-and-over Campbell Mountain and traverse down into the East Willow Creek. Several mines can be seen along this part of the race, including the remnants of the Kentucky Belle, gripping the cliffs hundreds of feet above the road. Finish off the final three miles of the race with a gradual downhill that ends on a cheering Main Street!