From Saturday, August 25, 2018 - 08:00am
To Sunday, August 26, 2018 - 05:00pm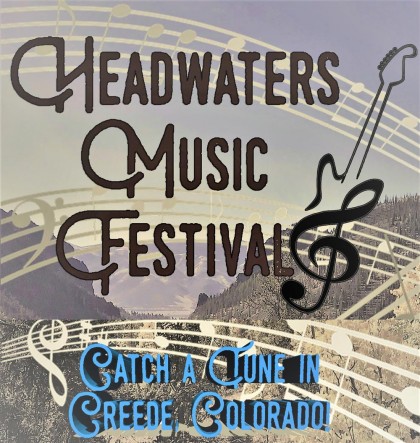 ---
Creede HEADWATERS MUSIC FESTIVAL – "Catch a tune!!!" Scheduled for August 25 & 26.
www.HeadwatersMusicFestival.com
Creede will host the third annual HEADWATERS MUSIC FESTIVAL celebrating the Historic Mining Town of Creede, Colorado as an excellent live music venue. Eight great bands have been scheduled for the weekend along with a variety of fun entertainment and unique local dining experiences. The event is being sponsored by the Headwaters Music Festival – a non-profit organization, and will take place in the natural beauty of the San Juan Mountains at the headwaters of the Rio Grande River.
Performers include national, regional, and local talent such as Maggie Rains & The Crooked Keys, Bo DePena, Rally Round, Victor & Penny, Thom Shepherd, Mito de Soto, Coley McCabe, Moors & McCumber, 4th Infantry Band
Camping will be available near the concert site, and other lodging accommodations in Creede include hotels, motels, RV parks, and several Bed and Breakfast venues.
Tickets for the musical event are $25 for a one day pass, $40 for the two-day pass, and can be purchased on line at www.HeadwatersMusicFestival.com